← Back to: List of phobias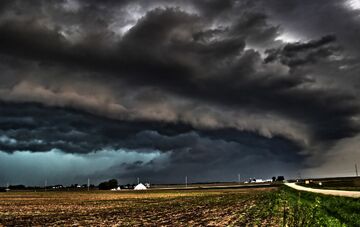 Procellaphobia, or tempestaphobia (from Latin procella and tempestas, both meaning storm) is the irrational fear of storms. The most common branch is ceraunophobia (fear of thunder and lightning), followed by turbophobia (fear of tornadoes). For those living in places like the Midwest, they may fear thunderstorms and tornadoes during the warmer parts of the year, and during the wintertime they may fear blizzards (see chionothyellaphobia). For those living near the coasts, they may fear tropical cyclones (such as hurricanes) approaching.
Sufferers would be obsessed with the weather and feel worry about their lives and their property. They would tune to the Weather Channel or use a weather app or website to get updates if storms are heading their way. Many would only go outside or to outplaces if skies are clear with no storms approaching. If a storm approaches, one would take cover in a small interior room, such as a closet, while others may hide under the bed or table. If the storm is getting violent, many would ride out in their basement or storm shelter if they have one (they must take shelter in the safest place if tornado approaches).
Procellaphobia can be treated using cognitive-behavioral therapy (CBT).
Ad blocker interference detected!
Wikia is a free-to-use site that makes money from advertising. We have a modified experience for viewers using ad blockers

Wikia is not accessible if you've made further modifications. Remove the custom ad blocker rule(s) and the page will load as expected.