← Back to: List of phobias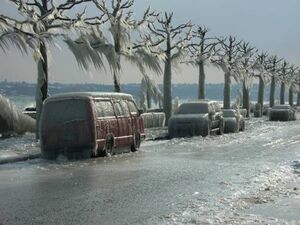 Pluvifrigophobia (from Latin pluvia, frigore, "freezing rain") is the fear of freezing rain. It is the branch of ombrophobia, fear of rain, and pagophobia, fear of ice. The fear is commonly triggered from getting in an accident after roads got icy resulted from freezing rain. As a result, sufferers would not drive when roads are icy. While at home when it's raining outside where it freezes on the ground, some may worry that their property may get damaged or that power may go out.
Ad blocker interference detected!
Wikia is a free-to-use site that makes money from advertising. We have a modified experience for viewers using ad blockers

Wikia is not accessible if you've made further modifications. Remove the custom ad blocker rule(s) and the page will load as expected.